Asset Class Performances
Across global financial markets, the 1Q22 was marked by big swings in stock, bond and commodity prices. The initial spark for the volatility was the sudden shift in expectations around the Fed at the start of 2022, later fueled further by Russia's war against Ukraine.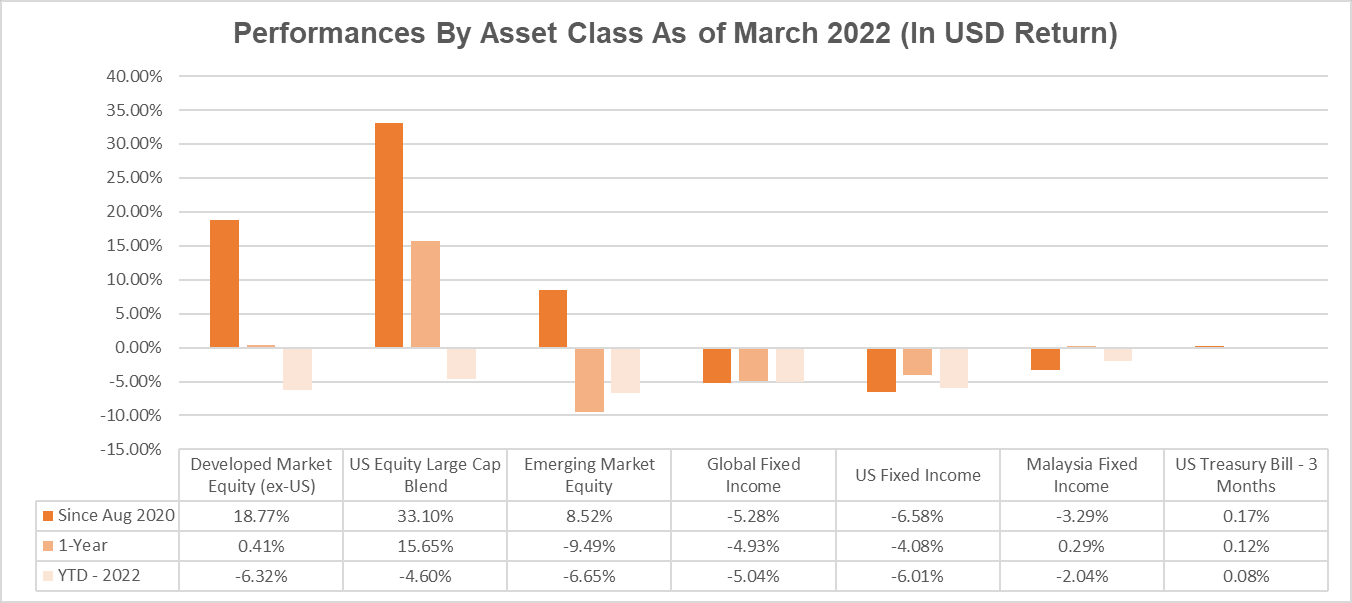 Among the developed markets, the US market landed in the performance rankings. Commodity-exporting countries benefited from the conflict on supply concerns, with Canada and Australia's markets gaining 4.9% and 6%, respectively.
Morningstar China Index fell sharply with a loss of 13% in 1Q22. A growing dispute between regulators about accounting and disclosure standards may lead to the delisting of some Chinese companies from US exchanges. Moreover, investors were spooked by a new round of COVID-driven lockdowns that may disrupt the Chinese economy.
Oil prices jumped 33% in 1Q22 as demand from a global economy recovering from the pandemic-induced recession outstripped supply.
Bond saw its worst quarterly performance in over 20 years. The continued upward pressure on inflation as the US consumer price index registered its biggest increase in 40 years. With inflation above the Fed's 2% target rate, policymakers raised the federal-fund rate by 25bps, its first rate hike since December 2018. Markets are now pricing in an increase in the federal-funds rate to 2.5% by the end of 2022.
Portfolio Performance As of March 2022
Total Returns in USD

The annualized and YTD returns for P04-P10 continued to track its underlying benchmark closely. The tracking difference in 1-Year was due to the 71bps discount of Emerging Market ETFs relative to its underlying benchmark. As for P01-P03, outperformance was cushioned by positive returns in Malaysia's fixed income mutual funds.
Total Returns in MYR

The total returns were higher as Ringgit depreciated by 50bps (Since Aug 2020), 141bps (1-Year) and 96bps against the USD.
Disclosures
Past data and performance do not indicate future performance. Actual individual investor performance will vary depending on the initial investment, amount and frequency of contributions, allocation changes, taxes and fees during the time frame considered